Dark fantasy nightmares through the eyes of a child can be quite terrifying. Just look at the flying monkeys from the award-winning classic The Wizard of Oz or the creatures on wheels from Walter Murch's 1985 sequel, Back to Ozwith Fairuza Balk. Ugly Sweater Party Charles Chudabala (read our interview with him here) dives into that spooky side of horror fantasy with his directorial debut, black nightshade.
A scared young girl (Leah Schaefer: AbsurdTV television series) walks around her room alone as her mother's voice trails behind her, telling her to go to bed. Suddenly, an evil witch named Hazel (Jenn Nangle: Tonight 2018, 10/31 2017) appears from the shadows, threatening to kill the little girl's friends, one of whom is a giant rabbit (Marle Schaefer: AbsurdTV TV series). However, a fairy princess (Lexi Marlene: Cold blood) tries to intervene… just before the reality of the situation is revealed.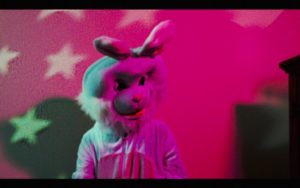 Inspired by a recurring nightmare Chudabala had when he was 5 years old, black nightshade takes the vibe of the opening scene to Labyrinth in its short battery life of 5 minutes. While there's no singing Bowie or spooky Jim Henson puppets, a childish nightmare materialized by the imagination is successfully brought to life. Attention to visual detail paired with a dark, mystical score composed by Richard Trejo (Malvolia: the queen of screams) encompasses the dark, dark recesses of a child's spooky imagination. Directing this nightmare is Jenn Nangle. As she plunges a knife into the life-size rabbit laughing maniacally, she takes a slightly toned down version of her demon character from her original series, Malvolia: the queen of screams.
Whether it's intentional or not, there's an added depth to this short. One can even interpret this as the artistic depiction of the death of childhood imagination as the little girl is invited to fall asleep alone before and after the dark fantasy unfolds.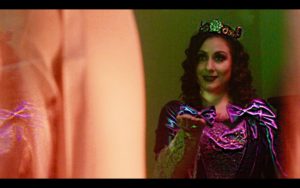 This brief but intriguing short makes the most of every minute, saying a lot in a short time, perhaps even more than originally intended. It is clear that Chudabala learned from his involvement in independent cinema as an actor and producer. Adding director and writer to his resume, he's now shown us a glimpse of talent as an artistic visionary from a whole new angle. Check out his latest attempt, for free, by clicking the link below!